At CES 2023, agencies outline progress and potential around the metaverse, podcasting and sustainability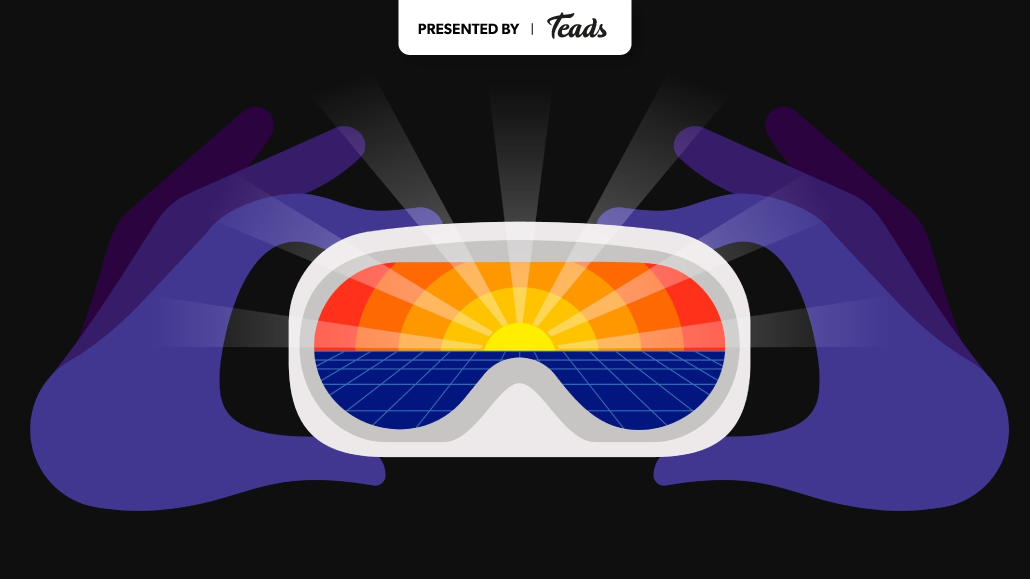 As CES closed last week, the topics of sustainability, emerging podcast channels and the metaverse were discussed. (Catch up on day one CES highlights .)
This year's tech and gadget fest seemed to focus a bit more than usual on audio, video and spatial devices and immersive gear. It's no surprise that companies are shifting their priorities to more communication, virtual and video tools ever since the pandemic irrevocably changed the workplace and social activities.
All things metaverse and Web3
As expected, Web3 and metaverse technology and activations represented some of the biggest highlights in products and programming this year at CES. Several agency and media executives told Digiday that there seemed to be more AR and VR products compared to previous shows.
The activations kept agencies thinking about use cases for the metaverse and Web3, said Josh Campo, CEO of Razorfish, an interactive agency within Publicis Groupe. Compared to recent years in which agencies were still trying to understand what the metaverse is, Campo believes clients and agencies are now focusing on practical applications before they experiment — especially as businesses step gingerly into an uncertain economy.
"Now the conversations are evolving from just doing something cool [in the metaverse]," Campo told Digiday.
But there is still a long way to go before any form of a metaverse is developed, if at all. Campo also noted that consumers are not quick to adopt some of these devices and technologies due to the high costs. Plus, many headsets and VR devices are "still clunky," he added.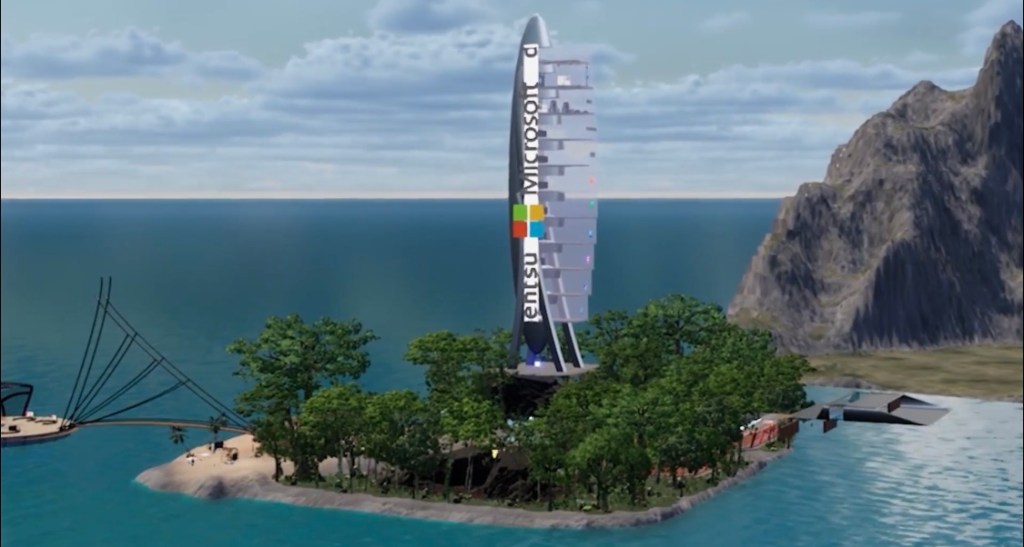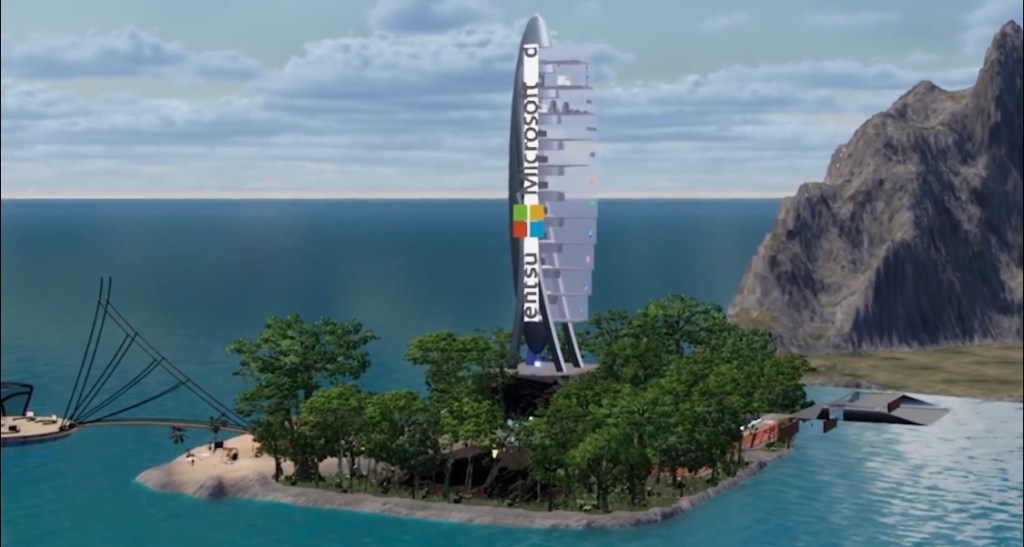 Even so, there are firms working on metaverse initiatives that don't have anything to do with AR or VR specifically. It is commonly misunderstood that metaverse means using AR and VR, but accessing some of these virtual platforms simply requires an online browser — headsets are optional for an immersive feel.
That's the case for Dentsu's metaverse campus, the Dentsu NXT Space, on productivity platform HeadOffice.Space. The metaverse space was unveiled this week at CES as new buildings and areas continue getting built out and updated on the platform. The initiative is part of Dentsu's experimentation in the metaverse and helps the agency guide clients in their testing and research.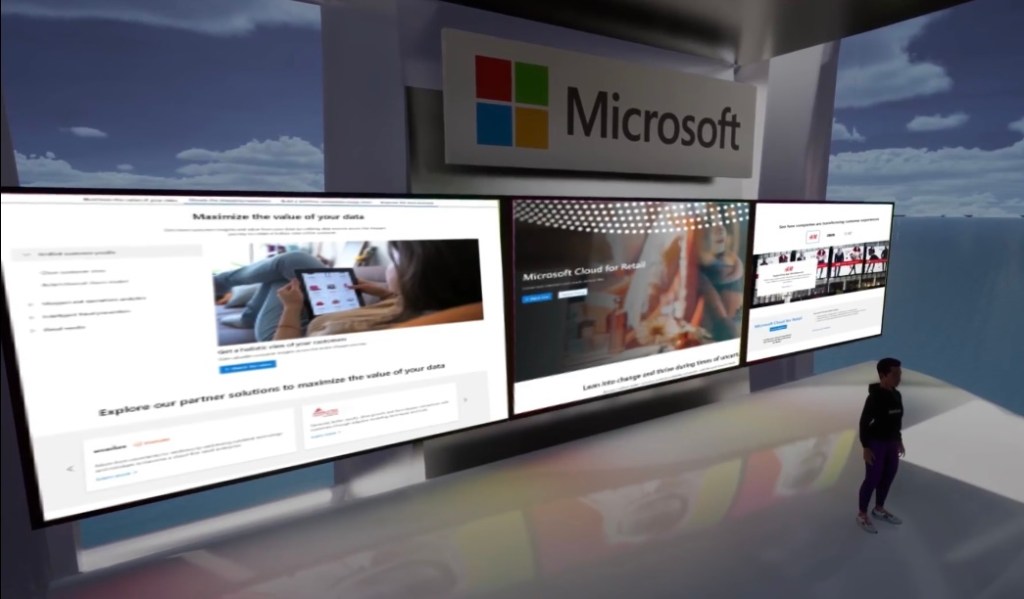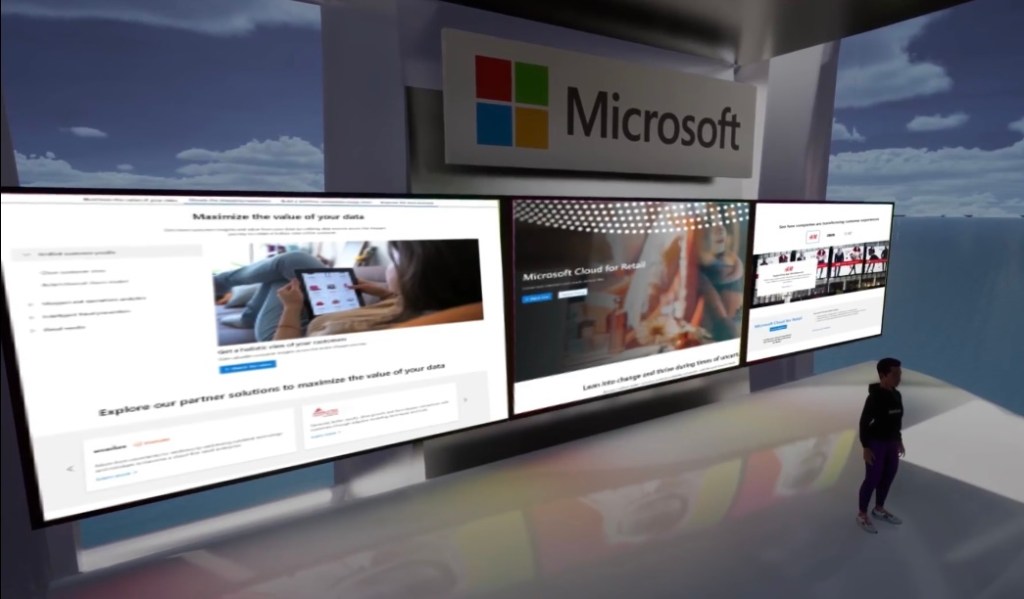 Val Vacante, vp of solutions and innovation at Dentsu, said the NXT Space is still growing as the agency develops additional VR features at South by Southwest later this year. Dentsu also recently built a new Microsoft Retail Education Center and LinkedIn Lounge inside Moon Valley. Microsoft is the agency's partner in launching the NXT Space, and many of the tools used within the platform are Microsoft products.
The showroom was designed for clients to easily access the tool. For example, consumers can scan virtual items in Dentsu's metaverse showroom and retail lab to get product details and have those products delivered in the physical world.
"We want to work with [clients] on their vision and prioritize from there," Vacante told Digiday. "Depending on what experience they want, [it is] just being really thoughtful about the experiences we're creating."
Podcasts get more immersive?
Marketers and agencies at CES' C Space on Friday delved into the evolution of podcasting and audio, honing in on how these platforms fit into the future of advertising and technology. In a conversation with SiriusXM executives, Sarah Stringer, evp and head of U.S. media partnerships at Dentsu, spoke about how the agency has participated in helping podcasting grow into a multibillion industry in recent years .
Like many agencies, Dentsu has experimented with different ad formats and content creators to help clients find novel activations and executions in the medium. Stringer said Dentsu has been researching the attention economy for five years, and found that sound has been among the major important drivers for recall for people. In other words, audio recognition of something like tunes and jingles is strong.
"A jingle or something of audio recognition that would really give you that moment — we're really seeing that kind of coming back to the fore," Stringer said. "For me, I think that this renaissance in audio that has really been driven by podcasting is the fact that people feel so passionately about the things that they follow. It's allowing for better cut through."
As for the future of podcasting, Stringer said there is potential for more immersive content and experiences as smart speakers, connected cars and spatial audio get better. She used the example of how listening can be combined with companion video content to make podcasts more interactive.
"I think we haven't even scratched the surface of where the impact of audio storytelling can go in this new immersive environment," Stringer said. "Audio is growing and driving a ton of growth through connected cars, obviously through smart speakers, even through mobile phones."
How agencies can tackle sustainability
Alongside the robotics and agricultural innovations at CES addressing sustainability, agencies also had their own discussions around environmental goals. When it comes to sustainability, WPP's media arm GroupM plans to be "very forceful" when it comes to pushing for more accountability across its partners and prospective clients, according to GroupM CEO Kirk McDonald. He said companies should set concrete and public goals, which will help drive accountability and measure progress.
"Standards are important for the reason that you can't manage things you don't measure," he said. "And we have to agree on measurement increments to move something forward. That requires us to all sit down and define what the unit is and define what progress looks like."
Although carbon offsets are part of the solution, McDonald said they aren't the only thing that matters. He mentioned that focusing too much on offsets might allow companies to appear compliant without actually reducing carbon footprints in meaningful ways.
"We think offsets are important because they should be a path for us to get into the uncomfortable zone," McDonald said. "A path for us to look at workflow improvements, a path for us to think about the things that we need to actually run our business versus things that we've done as an old practice." —  Digiday reporter Marty Swant contributed to this report.